Rockstar Games is put to unrest when leaks of 'Grand Theft Auto 6' gameplay footages and even its source code spilled all over the social media on Sunday, September 18.
The culprit with the pseudonym 'teapotuberhacker' via GTAForums has posted never-before-seen 90 footages showing alleged GTA6's pre-alpha build look and gameplay. Additionally, the stolen 3GB worth of data from Rockstar's internal servers is said to contain photos and even the source code for the game.
Bloomberg's Jason Schreier, unfortunately, confirms that these leaks are real. In a tweet, he said, "Not that there was much doubt, but I've confirmed with Rockstar sources that this weekend's massive Grand Theft Auto VI leak is indeed real. The footage is early and unfinished, of course. This is one of the biggest leaks in video game history and a nightmare for Rockstar Games."
According to Scheirer, Rockstar employees and Take-Two Interactive is 'stunned' by the leak. That those familiar with the project were pondering with the implications of the leak and what the management would do to handle the situation.
As of writing, the GTAForums post by the hacker is now deleted. Take-Two Interactive through DMCA has been taking down videos related to the leak, including the very footages uploaded to YouTube by the hacker. However, upon browsing on Twitter, there may still videos of the leak seeping through the platform.
Furthermore, the hacker attempted to blackmail Rockstar and appeared to be demanding for a negotiation. In the same (now deleted) GTAForums post, "it's possible that [I] could leak more data soon, GTA5 and 6 source code and assets, GTA6 testing build."
Rockstar Games, via their official Twitter handle, has now released a statement asserting that the next GTA installment will continue as planned, "We do not anticipate any disruption to our live game services nor long term effect on the development of our ongoing projects." See their full statement below.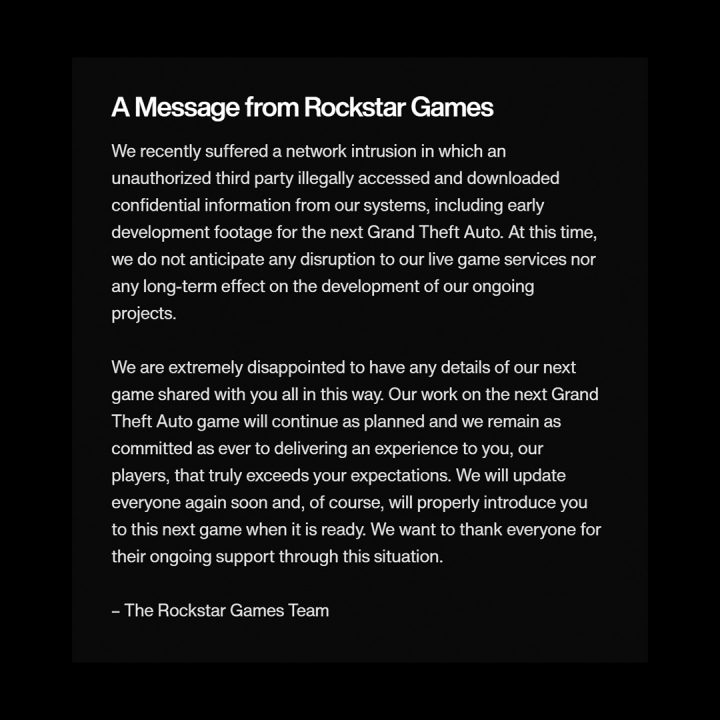 Naughty Dogs co-president Neil Druckmann—who dealt with the pre-release info about their game, the Last of Us Part II—has empathized with the incident and sought to reassure fellow game developers affected by the latest leak.
"To my fellow devs out there affected by the latest leak, know that while it feels overwhelming right now, it'll pass," Druckmann said in a tweet. "One day we'll be playing your game, appreciating your craft, and the leaks will be relegated to a footnote on a Wikipedia page. Keep pushing. Keep making art," he added.
The latest leak may confirm our previous report on having a female co-lead and a Miami-based location, but this is a serious blow to Rockstar Games, even then they're pushing to deliver the next Grand Theft Auto experience properly when the game is ready.
UPDATE: (As of Sep. 19) Added Rockstar Games statement "A Message from Rockstar"