South Korean video game company Nexon announced that Blue Archive is starting its half-anniversary celebration with the 0.5-Year Anniversary Countdown, which runs from April 26 to May 3, 2022. A free-to-play role-playing game (RPG) launched globally last November 8, Blue Archive features a combat system within a 3D environment.
The player takes on the role of a teacher, called Sensei, in the academy city of Kivotos. In this capacity, you can mobilize units composed of up to six students, particularly four "strikers" who engage in direct combat, and two "specials" who act as support. To recruit more students, a gacha system is instituted using pyroxenes. Blue Archive is currently available in iOS and Android, receiving over a million pre-registrations prior to its global release.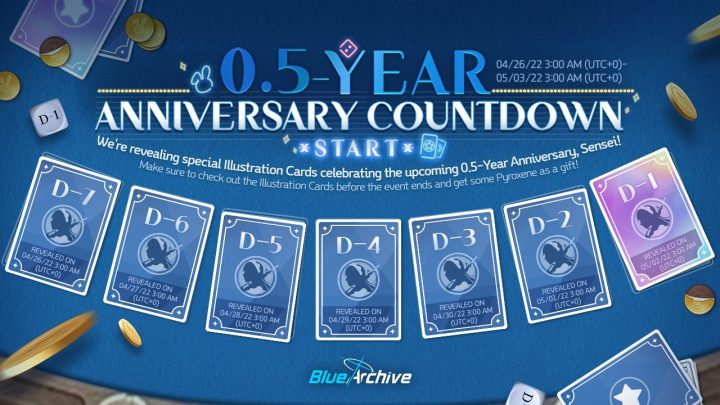 During the Countdown Event, players are set to receive 155 pyroxenes per day, and illustration cards would be revealed one by one until May 3. When all cards are opened, players can receive 1,200 pyroxenes. Besides the gifts, Blue Archive has also presented a roadmap of planned updates until July.
Bunny Chasers on Board (Preregistration ongoing)
Volume 3 Eden Treaty Chapter 2: Paradise Paradox
Special Mission: Decagrammaton
Hot Springs Resort No. 227
Volume 3 Eden Treaty Chapter 3: Our Stories (First Half)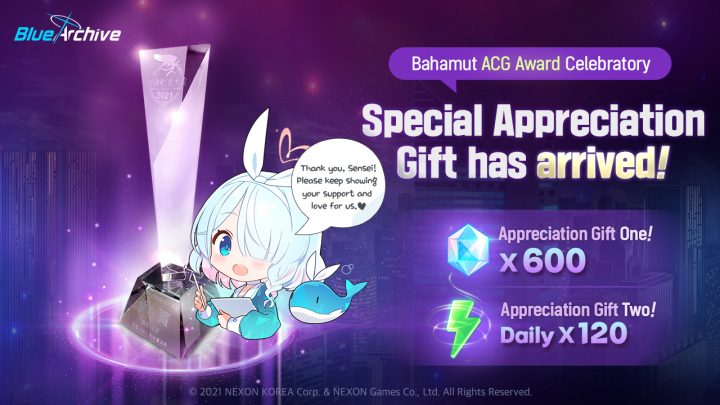 In addition to this, bagging the bronze award in the recently concluded Bahamut ACG Awards prompted Blue Archive to give another gift of 600 pyroxenes and 120 action points until May 1. Some 53,000 players have reportedly participated in the voting, from which Blue Archive received over 4,000 of them.
Nexon has also published similarly popular mobile games such as KonoSuba: Fantastic Days and Counter:Side.