With so many games to play on Game Pass PC, we just can't get enough of showing you how many great games there are on there. So with that, we're bringing you another Game Pass list, now here are the 5 Best Strategy Games on Game Pass PC.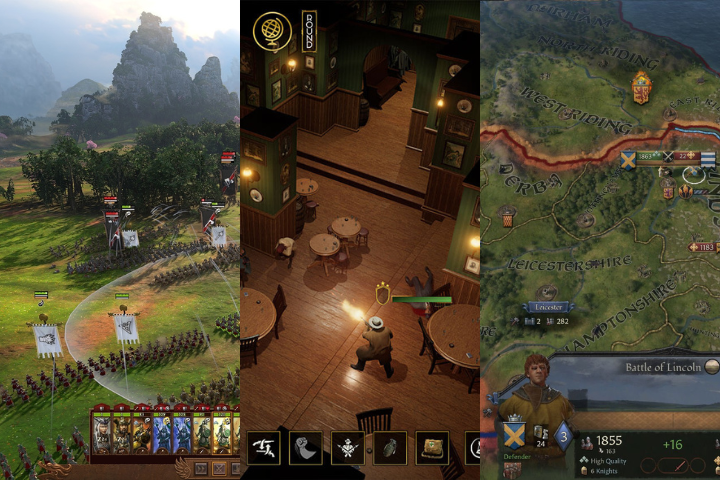 1. Total War Series
With Total War: Warhammer III and Total War: THREE KINGDOMS both available on Game Pass, not only does Total War provide players with two fantastic Real-Time Strategy games, but it also gives us two RTS games that give us completely different worlds and soldiers we can play around with. Just like most RTS games, the ultimate goal is to better your enemy, and annihilate all their soldiers with ultimate battles and sieges.
Total War: Warhammer III takes place in the Warhammer world, where you are able to pick between 7 unique races, all coming with their own special abilities and resources. With up to 8 player multiplayer, the game has a chance to give players utter mayhem as you wage ware with them, or take them down.
Total War: THREE KINGDOMS however, takes us to ancient China, where instead of picking between 12 races, you're given 12 Warlords, and the goals are all the same. What does make this game different from Warhammer however, is that these warlords have their own unique playstyle and objective, give you multiple ways to victory.
Anyway, both these games are free on Game Pass, so if you're not a fan of one of them, you can always try the other.
2. Age of Empires Series
I don't think it would be legal if we made a Best Strategy Games list without including one of the best to ever do it. With all the games available to play on Game Pass, you're free to start however you want.
Personally, I play Age of Empires 4 when I want something more competitive, as AoE4 includes a Ranked Mode, if you want something a bit more casual, and have a good time with friends, I've seen some who prefer Age of Empires 2. Either way, with all 4 games available, there's a choice for everyone, and you just can't go wrong with any of them.
3. The Wasteland Series
A mix of an RPG and Strategy game, the Wasteland series offers you amazing stories, and awesome gameplay mechanics. Each Wasteland game is different in terms of story, so starting with any of the 3 would be fine. What makes this series so great is the turn-based tactical gameplay.
Being able to position your characters in the most optical way; making sure they're taking proper cover, but at the same time has a view of the enemy for a clear shot, trying to lure your enemies into more vulnerable positions, there are just countless possibilities. And with all three games available on Game Pass, you're sure to have some real fun.
4. Empire of Sin
If Wasteland was a mix of RPGs and Strategy games, Empire of Sin has all those, with an included management simulator. In this game, you're able to choose from 14 different different mob bosses, inspired by those of Al Capone, Stephanie St. Clair, and Goldie Garneau.
With that you're able to manage your mob gang, take over other gangs and so much more. The gameplay is somewhat similar to that of Wasteland. It's a turn-based tactical style of gameplay where positioning your team is key. It's a lot to throw at you, but you're sure to get the hang of things.
5. Crusader Kings III
Take command of your own house, and create a dynasty of your own as you claim lands, negotiate treaties, and make deals to ensure that your empire ends up as the largest one in the land. The game sets players into the Middle Ages, as you take care of international relations, manage diplomacy, and improve your technology, all in order to get the upper hand over other houses, and come out as the true ruler of the Middle Ages.