Razer has just announced its newest and most advanced mouse to date, the Razer Basilisk V3 Pro.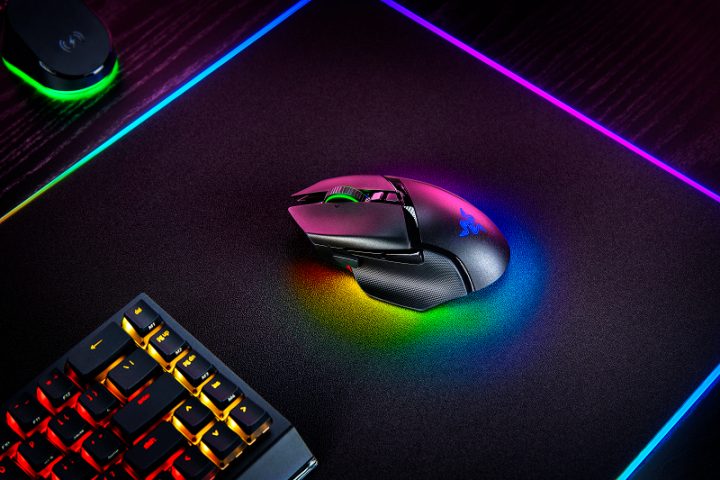 The mouse is outfitted with Razer Optical Mouse Switches Gen-3 for zero double-clicking issues and no debounce delay. It also offers a more tactile feel and a longer click lifespan with up to 90 million clicks.
Offering best-in-class precision, its Focus Pro 30K Optical Sensor helps the Basilisk V3 Pro achieve a complete resolution accuracy of 99.8%.  While its Smart Tracking feature auto-calibrates across different surfaces allowing gamers greater control and accuracy.
The Basilisk V3 Pro's signature shape with 10+1 Programmable Buttons helps support different grips while its numerous buttons allow for a variety of easy access commands and macros.
Its HyperScroll Tilt Wheel allows users to speed through content in a free spin until stopped or go into a tactile mode for more precision and better feedback.
For those who love RGB lighting, it features Razer Chroma RGB with 13-Zone Chroma Lighting with Full Underglow. This gives gamers the ability to customize each zone with over 16.8 million colors and a variety of lighting effects.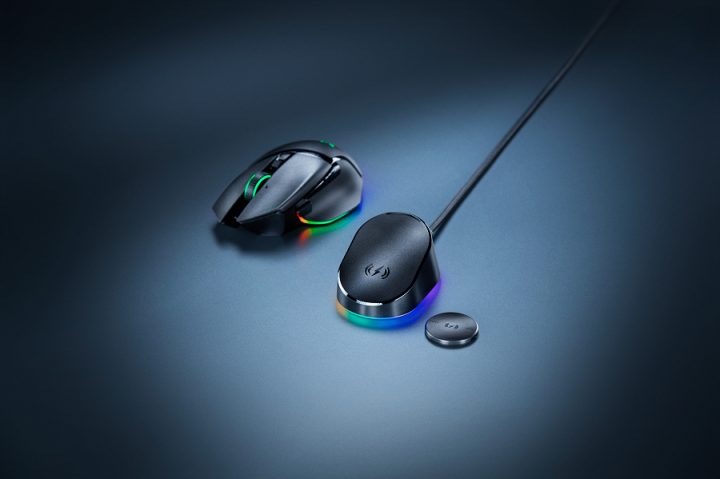 It also incorporates Razer HyperSpeed Wireless with a 2.4 GHz connection for an ultra-responsive experience. It also features multi-device support to help connect the mouse with a wireless Razer keyboard together with a single dongle.
The Basilisk V3 Pro can also connect via Bluetooth, a Type-C connection, and Razer's newly released 4K Hz HyperPolling Wireless Dongle.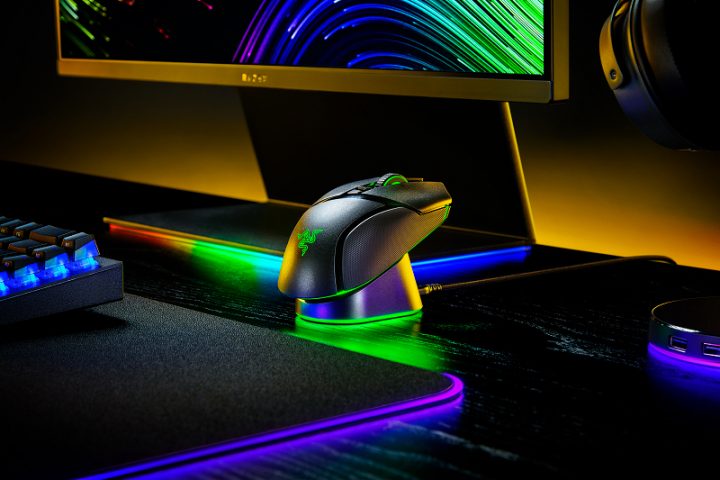 Charging is also made easy with the Razer Mouse Dock Pro with an Integrated 4K Hz Transceiver, allowing it to support Magnetic Wireless Charging for a more seamless and convenient experience.
All users will need to do is replace the regular mouse puck with the Wireless Charging Puck that comes with the Mouse Dock Pro and charge the mouse by simply placing it on the dock.
RAZER BASILISK V3 PRO specs:
4-way Razer™ HyperScroll tilt wheel with electronically actuated notched and free-
spinning modes
10+1 independently programmable buttons
Razer™ HyperSpeed Wireless (with Multi-Device Support), Bluetooth, and Wired support via Razer™ Speedflex Cable Type C
13 Razer Chroma™ RGB lighting zones with full underglow and true 16.8 million customizable color options
Razer™ Focus Pro 30K Optical Sensor
Up to 750 inches per second (IPS) / 70 G acceleration
Razer™ Optical Mouse Switches Gen-3
Up to 90 hours Battery Life (HyperSpeed)
On-board memory (4+1 profiles)
Approximate size: 130 mm / 5.11 in (Length) x 75.4 mm / 2.96 in (Grip Width) x 42.5 mm / 1.67 in (Height)
Approximate weight: 112g / 3.95oz (Excluding cable)
Dock Compatibility: Razer Mouse Dock Pro with Razer Wireless Charging Puck (both sold separately)
RAZER MOUSE DOCK PRO specs:
Built-in Razer™ HyperPolling 4K Hz transceiver
Anti-slip base
Compatible device: Basilisk V3 Pro
Approximate size: 83.5 mm / 3.28 in (Length) x 56 mm / 2.2 in (Width) x 43.5 mm/ 1.71 in (Height)
Approximate weight: 112 g / 3.95 oz
USB Type C port for power and data
Inside the Box: Razer Mouse Dock Pro, Razer Wireless Charging Puck, High-speed USB Type A to Type C cable
PRICING
The new Razer Basilisk V3 Pro and Mouse Dock Pro are available through razer.com, Shopee, Lazada, or authorized sellers.
To learn more about the Razer Basilisk V3 Pro, you may visit here. If you'd also like to learn more about the Razer Mouse Dock Pro as well, you may click this link.