Rhythm game BanG Dream! Girls Band Party! (Bandori! Gāruzu Bando Pāti!) registers over 10 million downloads for its global version days after celebrating its 5th anniversary with a compilation album, a two-episode animation, and a live event. Besides a Star Discount Campaign and a Dream Festival Gacha, players can receive up to 500 stars for logging in between March 20 and April 9, 2022. Stars are used in the game's gacha system to obtain new characters.
Launched via Android and iOS on March 16, 2017, it has since been available globally (as of April 2017) and has released its Nintendo Switch version (September 2021). It can be downloaded from App Store and Google Play.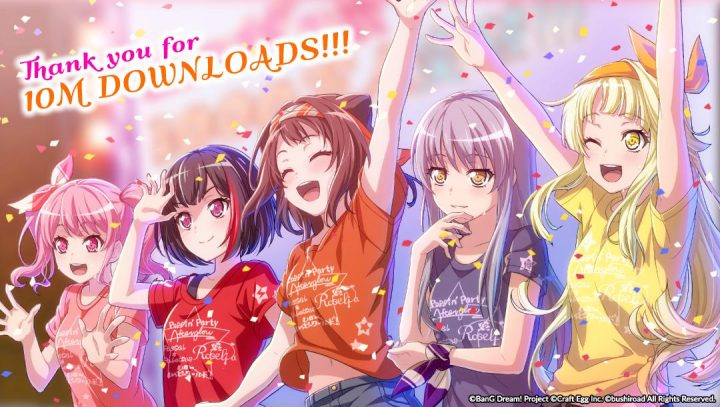 BanG Dream! Girls Band Party! was developed by Craft Egg in 2016, while the distribution was done by Bushiroad (Japan, Global), bilibili (PR China), and Kakao Games (South Korea). It is a free-to-play game which involves tapping and flicking notes perfectly for every chosen song. Available songs, composed of originals and covers, are played by bands in the franchise, namely Poppin'Party, Roselia, Afterglow, Pastel*Palettes, Hello, Happy World!, Morfonica, and RAISE A SUILEN. Players can choose to play alone (Single Live) or with others (Multi Live). The game also involves a gacha system, which is used to gain new characters, although certain events can also give characters as rewards.
Prior to the debut of the game, Bushiroad's music franchise BanG Dream! was serialized as a manga starting in 2015, and then premiered as an anime in 2017.
The animation, called "CiRCLE THANKS PARTY!", is broadcasted in Japan by TOKYO MX and BS Nippon TV on March 10 and March 17, 2022. It is also streamed via YouTube. Produced by Sanzigen (Sakura Wars the Animation, Fire Emblem: Three Houses), the animation is also linked to the in-game event Backstage Pass 5.
Meanwhile, the compilation album "BanG Dream! Dreamer's Best" was released on March 16, 2022. Priced at JPY 4,950 (approximately PHP 2,200) for the regular album, and JPY 13,750 (approximately PHP 6,100) for the limited edition, they will feature 17 and 60 songs, respectively. As of March 23, the album is ranked 6th by Billboard Japan and Oricon in terms of sales.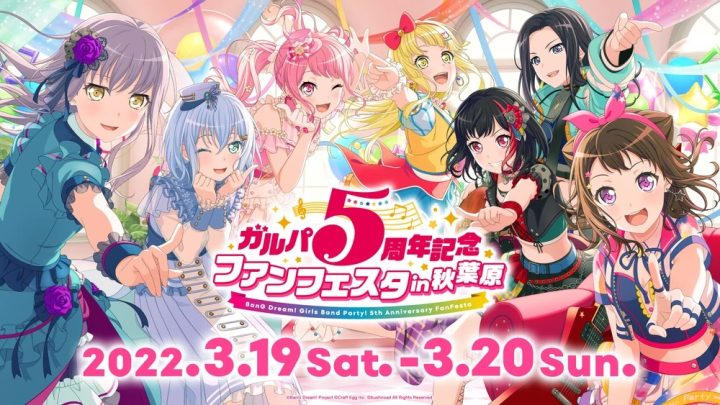 Both of these anniversary commemorations were made available ahead of the BanG Dream! Girls Band Party! 5th Anniversary FanFesta in Akihabara, a two-day event that was held at Bellesalle Akihabara in Chiyoda City, Tokyo. Besides featuring the voice actors behind the characters of BanG Dream!, it announced future plans for the franchise. This anniversary event was streamed via YouTube.