As the gaming world converges at gamescom in Cologne, Germany, Forza Motorsport took center stage with a series of electrifying announcements that have fans revving with anticipation. In a grand reveal, the iconic Nürburgring GP circuit, renowned both locally and globally, is set to debut in Forza Motorsport upon its launch on October 10.
Adding to the thrill, the legendary 12.9-mile (20.83 km) Nordschleife track is set to arrive in Spring 2024, part of an ambitious post-release content plan. Both circuits have been meticulously reconstructed to deliver a captivating experience on the Xbox Series X|S and PC platforms.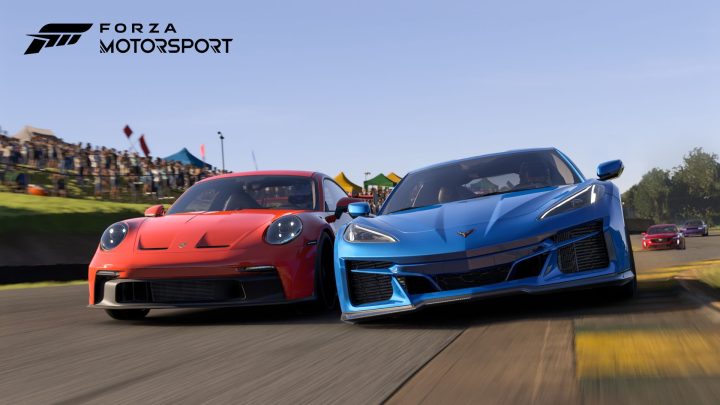 Forza Motorsport enthusiasts attending gamescom have an exclusive opportunity to immerse themselves in the dynamic Forza Motorsport theatre experience from August 24 to August 27. The spectacle unveils a sneak peek of the exciting racing action awaiting in the Builders Cup, the game's innovative single-player career mode. Attendees will be treated to riveting gameplay featuring a fleet of high-performance German sedans competing at the exhilarating Mugello Circuit.
In celebration of Porsche's 75th anniversary and its partnership with Xbox and the Forza franchise, visitors are invited to the Xbox booth to marvel at a custom-wrapped 2020 Porsche Taycan Turbo S featuring six bespoke Xbox Series X consoles.
Experience Forza Motorsport on PC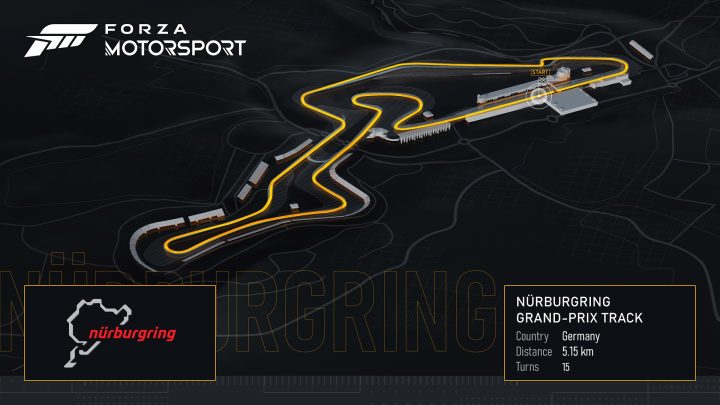 Starting today, PC enthusiasts can secure their spot on the starting grid by pre-ordering Forza Motorsport on Steam. By pre-purchasing the Premium Edition, players can dive into the game up to five days early, starting from October 5. The game seamlessly facilitates cross-play for online matchmaking, cross-save functionality, and shared progression and achievement unlocks between Xbox Series X|S and Steam platforms. This marks a significant stride towards enhanced gaming cohesion.
Forza Motorsport has been meticulously optimized to harness the power of cutting-edge PC hardware and technologies. Players can relish real-time ray tracing on-track, enabled by NVIDIA DLSS 2 and AMD FSR 2.2, for an unparalleled visual experience. With support for native resolutions up to 4K, ultrawide resolutions, HDR calibration, and other advanced features, Forza Motorsport promises immersive gameplay on PC.
The game's accessibility has been expanded through native support for a range of racing wheels, and the inclusion of the DirectInput API grants compatibility with a broader array of hardware setups. Input remapping ensures personalization, accommodating various controllers and custom setups.
Forza Motorsport Pre-Orders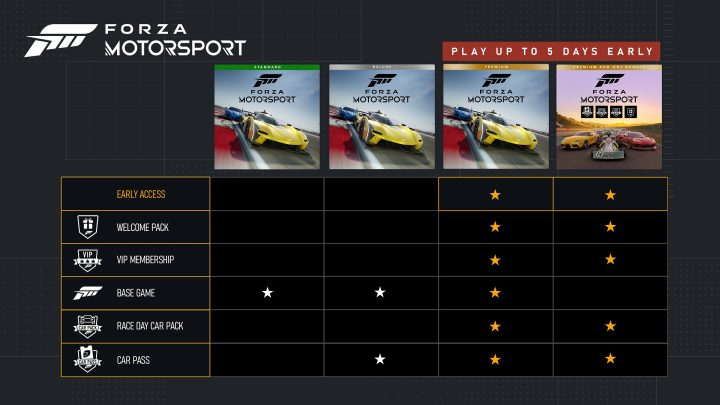 Pre-orders for Forza Motorsport's Premium Edition have commenced, offering early access beginning October 5, 2023. Xbox Game Pass members, as well as players of the Standard and Deluxe Editions, can upgrade to the Premium Add-Ons Bundle for advanced access and a treasure trove of additional content. A comprehensive breakdown of the Standard, Deluxe, and Premium Edition contents is available for prospective players to make an informed choice.
As the starting line beckons, Forza Motorsport has ignited a new era of racing excitement, engaging fans in an immersive world of speed, precision, and camaraderie. With each innovation, the game draws players deeper into the pulse-pounding realm of motorsport excellence.