Among the bunch of updates showcased at Pokémon Presents, we are indulged with new developments about its next main series installment: Pokémon Scarlet and Violet bringing an 'open-world RPG' experience, multiplayer mode, as well as new game mechanics adding a distinct spice to the adventures of Pokémon trainers out there.
We got a closer look in the open-world 'Paldea' region—a place influenced by Spanish-esque architecture—wherein players embark on 'three grand stories'. One of the main story is the familiar plot of being the world champion by defeating eight gym leaders, and the Pokémon League, but with the open-world aspect of the game, players have more freedom to battle gyms in any order they would prefer.
In traversing the Paldea region, players will be accompanied by the legendaries, Koraidon and Miraidon from the get go. These creatures are basically your all-around motorcycles who are capable of shifting different forms for land, water, and air use. They both have prominent wheels, but can also walk on four limbs.
The company also introduced Co-op play that goes beyond just PvP trainer battles. Up to four players can play via the 'Union Circle' where they can explore, ride, and battle in raids, in the Paldea region together.
Additionally, Scarlet and Violet titles introduced the 'Terastal' phenomenon, much like the Dynamax or Mega-evolve forms of select Pokémon in the previous installments, but now 'Terallized' Pokémons shimmer wavering lights in their crystal form based on their 'Tera type'. Some Pokémons with rare Tera type can be caught in multiplayer battle raids, and players can act at their own pace with waiting for other players.
New Pokémons were also introduced like Fidough, a cute, puppy-like creature made of flour, Cetitan with horns that can freeze its surrounding, and the Paldean Wooper who is covered in poisonous film.
In the 20-minute video, the Pokémon Company not only gave updates to Scarlet and Violet but to their other apps and games too, namely the Pokémon Unite, Pokémon Masters EX, and Pokémon GO. Ultimately, they will be bringing back the World Championships dedicated for every products after a three-year hiatus, including Pokémon TCG.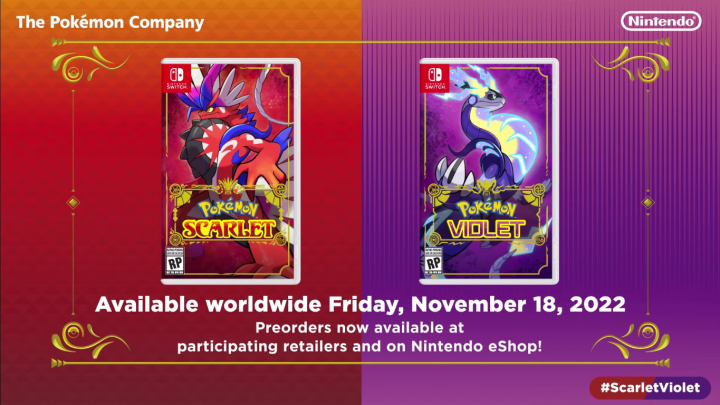 The Pokémon Scarlet and Violet has a global release date on November 18th, 2022 on the Nintendo Switch. Pricing is yet to be announced. Stay tuned for our updates!