South Korean video game company Nexon announced the upcoming collaboration of its mobile role playing game (RPG) KonoSuba: Fantastic Days with Japanese anime and light novel series Is It Wrong to Try to Pick Up Girls in a Dungeon? Familia Myth, also known as DanMachi, the abbreviation of its Japanese title. Slated to run from May 26 to June 9, Nexon has launched a pre-registration platform for the collab until May 25, which promises rewards for registered players based on the cumulative number of pre-registers reached.
A countdown bonus was also set to run from May 21 to May 25 where diligent players can receive 300 Quartz per day. Quartz is the primary currency to obtain new members via gacha. During the collaboration event itself, log-in rewards would include two 4★ Guaranteed Recruit Tickets, and a free 10x Recruit Ticket.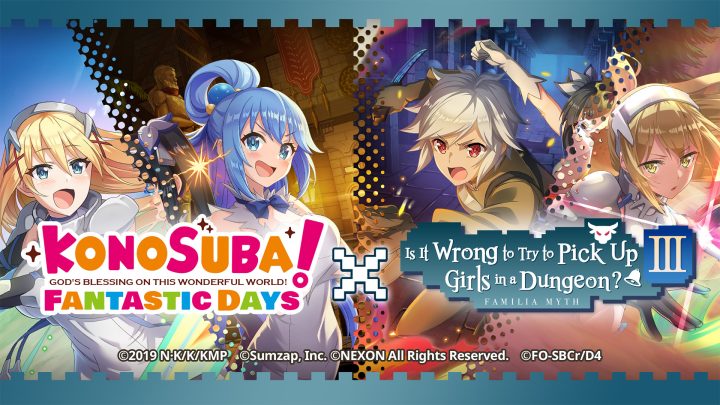 Based on the fantasy comedy anime and light novel series KonoSuba: God's Blessing on this Wonderful World, the card-collection role playing game published by Nexon and developed by Sumzap has more than 7 million downloads in Google Play and iOS. Last March, a manga based on the mobile game was announced.
Meanwhile, Is It Wrong to Try to Pick Up Girls in a Dungeon? is based on Fujino Omori's light novel of the same name which sold more than 12 million copies in total. The story follows the fresh faced Bell Cranel and his growth as he adventures through a giant city called Orario and explores the massive labyrinth "Dungeon" nestled underneath.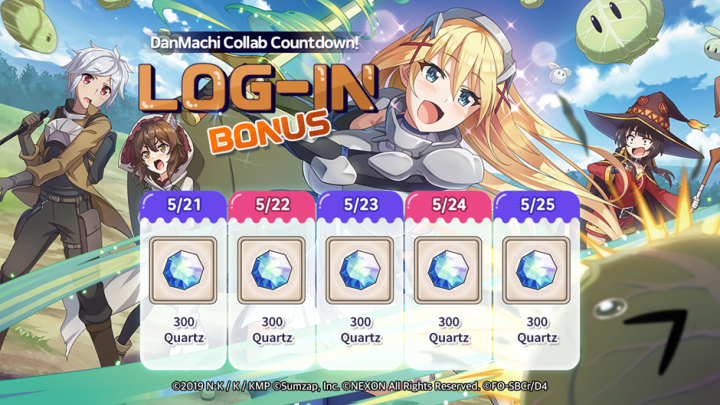 The KonoSuba: Fantastic Days X DanMachi events include:
Goddess Rivalry: DanMachi's goddess, Hestia, faces off against Konosuba's Aqua in a new quest and story!
Panel Missions: A new feature exclusive to this collaboration event will be introduced that rewards various items and new stones upon clearing missions.
New Universal Missions await players whose shared goal and progress depend on the number of defeats of the new boss, Minotaur.
A challenging new Dungeon beckons fearless adventurers.
Featured characters from KonoSuba which would be available to acquire during the collab would be Aqua and Darkness, while featured characters from DanMachi would be Ais Wallenstein and Bell Cranel.