Four talents from Japanese VTuber agency hololive will be featured in the high fantasy role-playing game (RPG) Valkyrie Connect, a free to play game that combines Norse mythology with Japanese aesthetic. Valkyrie Connect has reportedly been downloaded for over 19 million times.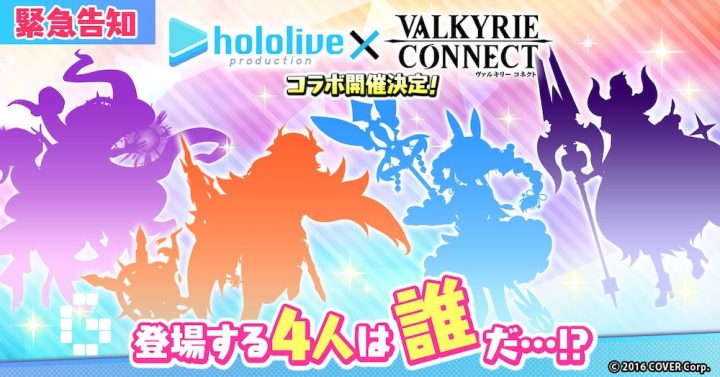 With the hashtag #HolokyrieConnect, a guessing campaign would run from May 3 to May 10 for people to speculate who will be featured from hololive. Art portraying guesses may also be featured in the upcoming livestream when the reveal would occur. The following are the clues provided by Valkyrie Connect thus far.
Mischievous, Almond, Carrots
Sometimes uses the Kansai dialect, Tenchou, Loves Usada Pekora
Loves food, Loves Japanese anime, Great at drawing
Her birthday is this month, Loves her mother's hamburgers, Yamada
Valkyrie Connect is available via Steam, Google Play, App Store, and Amazon Store.
A VTuber or virtual YouTuber refers to an online talent using a 2D or 3D avatar as alter ego in creating content. It was believed that Japanese VTuber Kizuna AI was the one who popularized the term, calling herself as one in her introduction video on December 1, 2016. Nonetheless, virtual idols who utilize similar technologies such as Hatsune Miku and Ling Yuan yousa, among others, have been around prior to her debut.
As motion capture rig and streaming technology became more affordable and easier to manage, there has been a noticeable increase in interest in the VTuber industry. Data technology company UserLocal has reported the existence of over 16,000 VTubers as of 2021. Meanwhile, ranking website Playboard saw that 9 of the ten most super chatted YouTube channels in the world last year were by VTubers, all of which were hololive talents.